Airport Coach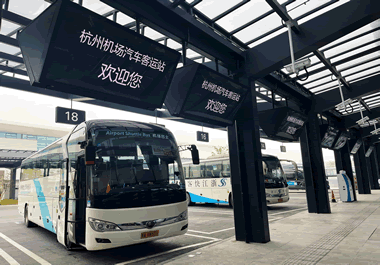 Perfect airport bus routes, covering over 10 routes in Hangzhou and over 20 routes in the province, can provide passengers with convenient and relatively inexpensive means of transportation.
Friendly Reminder:
We implement the regulations of real-name ticket purchase and bus taking for airport bus service. Please purchase tickets and take the bus with your original valid ID card.
The publicized schedule of airport bus is the scheduled departure time, and the announced departure time at the ticket window on the same day shall prevail.
Airport Bus Waiting Hall Location:
Coach Station is located northwest of 1F Ground Transport Center.
Time and Ticket Prices:
Xin An Jiang
¥70

Subject to local announcements Inquiry telephone:+8657164722054、+86 571 96299

¥Subject to local announcements
Inquiry telephone:+8657164722054、+86 571 96299
Yu Yao
¥60

Yu Yao Coach station、Yu Yao Express highway station——Airport

Subject to local announcements Inquiry telephone:+86 574 62623269(06:00-18:00)

¥Subject to local announcements
Inquiry telephone:+86 571 96299
Ping Hu、Hai Yan
¥Pinghu75、Haiyan70

Detailed inquiry:Pinghu Passenger Transport Center Station、Haiyan Passenger Transport Center Station

¥Subject to local announcements
Inquiry telephone :+86 571 96299
Pu Yuan(Tong Xiang)

Airport——Pu Yuan(Tong Xiang)

¥55

Pu Yuan(Tong Xiang)——Airport

Detailed inquiry:Pu Yuan Bus station、TongXiang Passenger Transport Center Station

¥Subject to local announcements
Service Telephone:+86 571 96299 ,0571-86661751
Pu Jiang

09:50、12:00、14:00、16:30、18:30、20:30




¥60

Subject to local announcements

¥Subject to local announcements
Inquiry telephone:+86 571 96299、 +86 579 84120136
Qian Dao Hu
¥90

Detailed inquiry:Qiandaohu Passenger Transport Center Station







¥Subject to local announcements
Inquiry telephone::+86 571 86661751
Zhou Shan

Airport——Pu Tuo, Zhou Shan

¥120

Pu Tuo, Zhou Shan——Airport

Detailed inquiry: Pu Tuo, Zhoushan bus station




¥Subject to local announcements
Inquiry telephone::+86 96299
Shang yu

09:00、10:10 、 11:00、12:00、13:00、14:00 、 14:50 、16:00 、17:00 、18:20、 20:00、21:00







¥45

Subject to local announcements

¥Subject to local announcements
Service Telephone:+86 571 86661751
Wu Zhen (TongXiang)

Airport —— Wu Zhen (TongXiang)

09:10、10:00、12:10、13:00、13:50、14:40、17:20、 18:40

¥55

Wu Zhen (TongXiang) —— Airport

Detailed inquiry :Wuzhen Passenger Transport Center Station;Tongxiang Passenger Transport Center Station

¥Subject to local announcements
Inquiry telephone:+86 571 86661751
Yong Kang

12:30、13:20、14:20、 16:20、 19:50





¥128

Subject to local announcements


¥Subject to local announcements
Inquiry telephone:+86 571 86661751
Hai Ning

09:00 10:10 11:00 12:00 13:10 14:00 15:00 16:00 16:50 18:10 20:00





¥98

Detailed inquiry:Passenger Transport Center Station




¥Subject to local announcements
Inquiry telephone:+86 571 86661751
Jia Xing

09:20 10:40 11:30 12:40 14:00 15:00 16:00 17:00

¥68

Detailed inquiry :Jiaxing Northern coach station;Jiaxing Passenger Transport Center Station




¥Subject to local announcements
Inquiry telephone :+86 571 96299
Sheng Zhou

09:55 11:00 12:00 13:00 14:00 15:10 16:10 17:40 19:20 20:50




¥58

Subject to local announcements




¥Subject to local announcements
Inquiry telephone:+86 575-83189423
Xin Chang

Airport ——Xin Chang

Sheng Zhou

11:00 、12:00、16:10 、17:40




¥60

Subject to local announcements




¥Subject to local announcements
Inquiry telephone:+86 575-86297777
De Qing ,Hu Zhou

Airport —— De Qing ,Hu Zhou

德清、湖州

¥Deqing 75、Huzhou 90

De Qing ,Hu Zhou——Airport

Detailed inquiry:Deqing Passenger Transport Center Station;Huzhou Passenger Transport Center Station




¥Subject to local announcements
Inquiry telephone:+86 57196299 、 +86 572-2023401 (08:00-17:00)
Heng Dian,Dong Yang

Airport—— Heng Dian,Dong Yang

10:00、11:00、13:00、15:10 、16:20、18:20 、19:30

¥Dong Yang70、Heng Dian75

Heng Dian,Dong Yang—— Airport

Subject to local announcements

¥Subject to local announcements
Inquiry telephone:Dong Yang:+86-579-86690371(08:00-17:00)、Heng Dian:+86-579-89324560(06:00-18:30)
Zhu Ji
¥50

Detailed inquiry:Zhu Ji Passenger Transport Center Station




¥Subject to local announcements
Inquiry telephone:+86-571-96299、+86-575-87500000(08:00-17:00)
Qing Tian

18:50(Tuesday)

16:50(Wednesday)

18:50(Thursday)

13:10 15:20 18:50(Friday)

11:30 15:20 19:50(Sunday)




¥180

+86 013567618000(08:00-17:00)




¥Subject to local announcements
Inquiry telephone:+86-571-96299 、+86-013567618000(08:00-17:00)
Jin Hua

9:50 、10:20、11:10 、11:40、12:20 、13:00、13:40、14:20、15:10 、16:20、17:10、18:00、19:10、20:10、21:30

¥110

Subject to local announcements

¥Subject to local announcements
Inquiry telephone:+86 571-96299、+86 579-83211739(08:00-17:00)
Lin An Qingshan Lake Science and Technology Park

Airport——Lin An Qingshan Lake Science and Technology Park

¥45

Lin An Qingshan Lake Science and Technology Park——Airport

Subject to local announcements

¥Subject to local announcements
Inquiry telephone :+86 571 86661751
Hangzhou East Railway Station

Airport——Hangzhou East Railway Station

9:20 10:00 10:40 11:20 12:00 12:40 13:20 14:00 14:40 15:20 16:00

16:40 17:20 18:00 18:40 19:20 20:00




¥¥25

East Railway Station——Airport

Subject to local announcement. Inquiry Tel: +86 571 85192012 or 18626883120.




¥Subject to local announcements
NOTE: The whole journey takes about 60 minutes under normal road and weather conditions. Terminal location: Hangzhou East Railway Station Terminal. Inquiry Tel: +86 571 96299
Shao Xing, Ke Qiao

Airport——Shao Xing

Keqiao Terminal,Shaoxing passenger transport center station

07:20、08:10、08:50、09:50 、10:40 、11:30 、12:20、13:20、14:00、15:00、15:50、16:50、19:20、20:20

¥Ke Qiao 20、Shao Xing 30

Shao Xing——Airport

Keqiao terminal ,Shaoxing passenger transport center station

Subject to local announcements

¥Subject to local announcements
Inquiry telephone:Shaoxing +86 575 88018852 Keqiao+86 575 85662118 85665177
Yi Wu

09:30、10:40、12:00 、13:20、15:30、 18:00、18:50、 19:40




¥72

Subject to local announcements




¥Subject to local announcements
Inquiry telephone:+86-571-96299、+86-579-85123092(08:00-17:00)
Wulin gate

Airport —— Wulin gate

Chengzhan Railway Station.Weijing Hotel, Pinghai Road

1. First bus: 08:30

Last bus: after the last flight.

2. (1)08:30-22:30: departure interval is about 120 minutes via Grand Metropark Hotel Hangzhou, Chengzhan Railway Station. Buses after 22:30 do not stop at Chengzhan Railway Station.

(2)23:30-01:30(+1): departure interval is about 30 minutes via Binjiang.

(3) After 01:30 until the end of the flight, the departure time is subject to the arrival of the flight.

3. Departures are made when the vehicle is full.




¥20

Wulin gate——Airport

Chengzhan Railway Station.pinghai road yuewang road Bus station

1. First bus: 04:30

Last bus: 21:00.

2. The departure interval is about 30 minutes between 04:30 and 06:00, 120 minutes between 06:00 and 20:00.

3. Departures are made when the vehicle is full.

4. Buses after 20:00 do not stop at the Chengzhan Railway Station.




¥20
NOTE: The whole journey takes about 55 minutes under normal road and weather conditions. Inquiry Tel: +86 571 96299